The QETTLE filtered water system and cartridge has been designed to deliver great-tasting drinking water – free from unpleasant contaminants and chlorine – whilst also inhibiting the build-up of scale inside the boiler tank. Filter cartridges should be replaced every 6 months.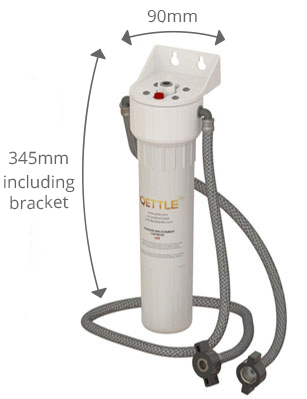 Under Sink Filter System & Cartridge
QETTLE's cleverly designed filter cartridge housing allows you to change your tap's filter cartridge in minutes. It's an easy job and we've integrated a pressure release button into the housing to ensure trapped air doesn't create a seal that prevents you from opening the housing.
Even though it's out of sight, we've designed the QETTLE filter system to be as neat and unobtrusive as possible. Measuring 345mm high x 90mm diameter, the filter cartridge housing sits on a fixing bracket underneath your kitchen sink.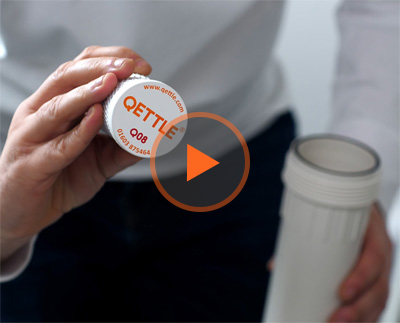 Easy Change Filter Cartridge Housing
When it comes to replacing your QETTLE boiling water tap filter cartridge, it's only the cartridge – not the housing – that you'll replace. So, unlike a number of hot and boiling water taps, you won't be contributing to landfill by throwing away a plastic housing or canister. 90% of the QETTLE filter cartridge is recyclable, too.