100°C WATER, 100% GENIUS Multi-tasking, multi-patented QETTLE is the ultimate boiling water tap.

100°C BOILING
Instant cups of tea and coffee are just the beginning...

FILTERED COLD
Great-tasting, cold drinking water without the contaminants.

REGULAR HOT
Regular hot tap for washing up and washing hands.

REGULAR COLD
Cold water, on tap, as you'd expect it.
Safe, stylish and superbly engineered, QETTLE is supplied manufacturer-direct. That, and the ingenious technology inside the tap, is what makes QETTLE so accessible.
After all, why should great design and convenience be exclusive?
We are
Qettle®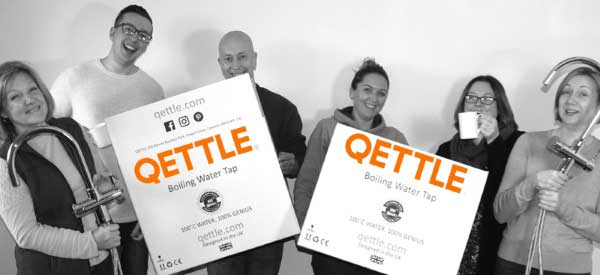 When you choose a QETTLE boiling water tap, you choose us. To buy and be supported by us, a British manufacturer and proud innovator of kitchen taps for over 50 years.
Whether you're pre-purchase, mid-installation or have an after sales query, QETTLE is here for you. Talk to the people who designed, assembled, tested and shipped your tap - it doesn't get much better than that.
100°C WATER, 100°GENIUS
DESIGNED
IN THE UK