Love QETTLE Signature Classic's timelessly elegant look, but stuck for space? Then the new QETTLE Signature Classic with a progressive valve is for you.
Unlike the original QETTLE Signature Classic, which features two, lever handles, this clever new Signature Classic variant has a round handle on the right for operating the flows of boiling and filtered drinking water, and a lever handle on the left.
The latter is fitted with a 'progressive valve', which simply means that the handle moves only outwards and forwards.
So, if you're concerned there won't be enough space behind your tap – and are worried those lovely lever handles might collide with your windowsill, wall or splashback – a QETTLE Signature Classic with progressive valve is the answer.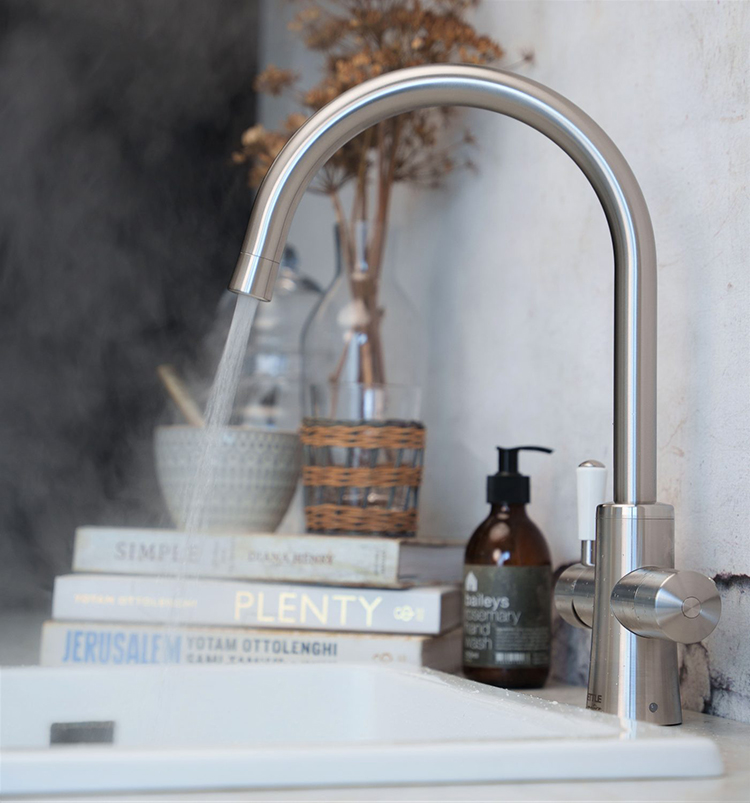 Marketing Director, Alexandra Rowe, says,
"The QETTLE Signature Classic is such a lovely, timeless design – and it looks wonderful with a deep, Belfast sink as the white lever handles complement the ceramic of the sink. However, the original design, which has two lever handles, requires a decent amount of clearance behind the tap – which isn't always possible.
"This design – where the lever handle for the normal hot and normal cold flows of water only moves outwards and forwards – plus a round handle for controlling the boiling and filtered flows, solves the problem very neatly and without compromising on the aesthetic of the tap or its functionality."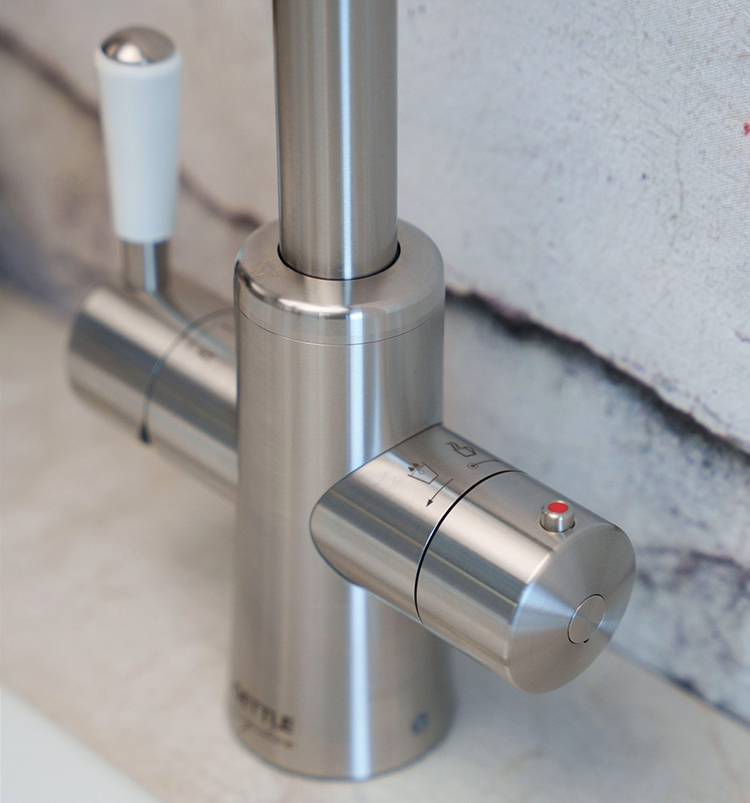 Access true, 100 degree boiling water by removing the safetly clip, pressing the button, and turning the round handle away from you. Fill up with filtered drinking water by turning the round handle towards you.
Need normal hot or normal cold? It's easy… Simply pull the lever handle outwards and forwards. Outwards to control the flow, and forwards to control the temperature. When the lever handle is in the upright position, the temperature is cold. Pull it towards you and the cold water will begin to blend with the hot water – giving a mixed flow. Pull the lever handle all the way forward for normal hot water.
Like all QETTLE Signature taps, the QETTLE Signature Classic with progressive valve is UK engineered from premium quality stainless steel. Its standard finish is buffed – a beautiful choice for stainless steel appliances, surfaces or lighting fixtures.
Alternatively, there is the choice of four coloured finishes – gunmetal grey, copper, matte black and brass. All are stunning and are created using a specialist PVD process, which results in a tough, durable finish.
Watch our QETTLE Signature Classic with progressive valve video here.
Pricing for a complete QETTLE Signature Classic tap with progressive valve starts at £785 (Feb 2023) and is inclusive of the boiler tank and filter system
QETTLE boiling water taps are 4 in 1 and deliver true, 100 degree boiling water
All QETTLE taps feature two-stage safety
2L (4 cups of boiling water), 4L (8 cups) and 7L (14 cups) boiler tanks are available
QETTLE Signature taps are made from premium grade stainless steel and are exclusively engineered in the UK