Connection to a Mains water supply.
A minimum of 1.5 bar pressure on hot and cold water is required for QETTLE Original and Signature taps. QETTLE Mini requires a minimum of 1.5 bar pressure on cold water only.
Please note if water pressure exceeds 5 bar, a pressure reducing valve must be fitted.
Water pressure
The water pressure of most properties is typically between 1.5 - 5 bar (it's usually around 3). In a few cases, where water pressure is greater than 5, a pressure reducing valve must be fitted to reduce the pressure.
If you're unsure what your water pressure is, knowing what type of plumbing system your home has will help.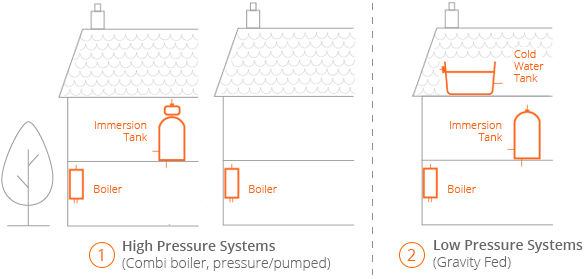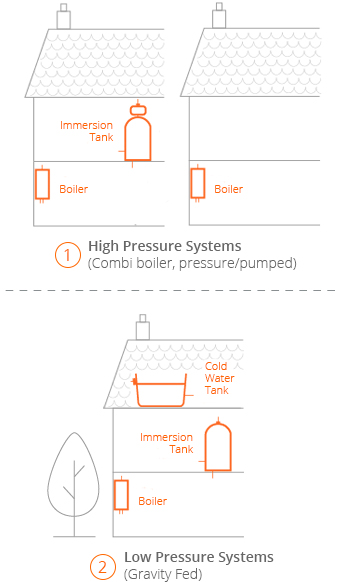 1. High Pressure Systems usually generate enough water pressure for our taps.
2. Low Pressure Systems typically don't generate enough pressure for the QETTLE Original to work perfectly (not an issue for the QETTLE Mini). The boiling water, filtered drinking water and your normal mains cold flow are unaffected but your hot water flow will be much slower than with a conventional kitchen tap. This needn't be a problem (a lot of people who use boiling water taps don't mind) but there are things we can do to improve your QETTLE's performance. Give us a call on 01603 875464 if you want to discuss options.
Measuring Your Water Pressure
If you want to measure your water pressure you'll need to measure both hot and cold for the QETTLE Original and just the cold for the QETTLE Mini. To test your mains water pressure, you'll need a water pressure gauge. Gauges are widely available from online retailers such as Amazon and shouldn't cost more than £10.00.
Use an outside/garden tap to test your cold water pressure. Outside taps usually have a ¾" BSP connection – so you should be able to screw the pressure gauge straight onto the outside tap. Once the gauge is attached to the tap, turn the tap on and take the pressure reading.
To measure the pressure of your hot water, you will need to turn off the hot water supply. Disconnect the hot water hose from your existing kitchen tap, then connect the pressure gauge to the mains hot water supply. Turn the water supply back on and take a pressure reading.