Mayfair Worktops are a constant in the world of work surfaces. They've sourced, templated and cut worktops for everyone from Michelin starred chefs and Olympic show jumpers to Subway and Costa Coffee. And after 25 years in worktops, there's not much these guys don't know about everything from best-selling composite and ceramic surfaces to show-stopping granite.
So, when it came to offering a small range of worktop complementary boiling water taps, it followed that Mayfair Worktops wanted a brand that mirrored its own commitment to quality materials and skilled engineering. QETTLE, the British boiling water tap brand, which is causing ripples in kitchen showrooms nationwide, ticked all the boxes.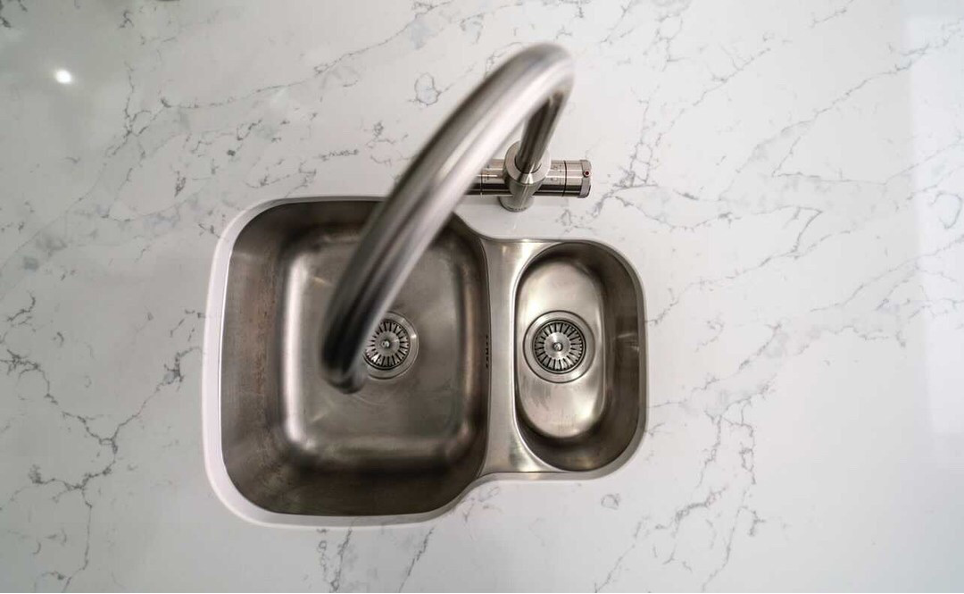 'QETTLE is a British-made, family-owned brand, which fits with Mayfair Worktops perfectly,' says Mayfair's Ella Auchterlounie. 'We're also family run and have been supplying and cutting amazing surfaces for incredible projects for over 25 years, so it was very important to us to source kitchen taps that reflected our own ethos. We love that QETTLE – whilst a relatively new brand name – has an impeccable pedigree. Its clever design was conceived by Greg Rowe, who also established Perrin & Rowe, the luxury kitchen and bathroom brassware brand.'

Another shared theme presented itself in the form of innovation and home-grown manufacturing. At Mayfair Worktops' HQ in Bradford, the company is home to not one, but two of the world's only double bed CNC waterjet machines. It's quite a claim for a company that started out with a small shop, and has subsequently recorded growth of 25% a year, with showrooms in Leeds, York, Swindon, Chelmsford and Birmingham.

Prior to their decision to work with QETTLE, Mayfair Worktops had found they were receiving an increasing number of customer enquiries about instant hot water and boiling water taps.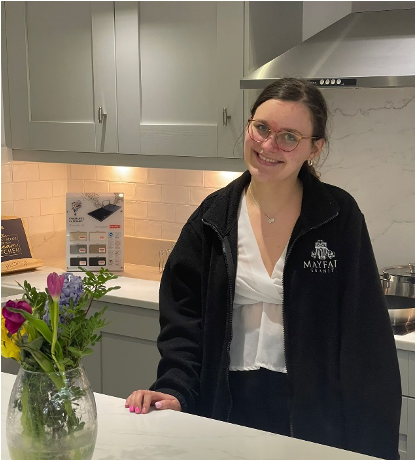 However, Ella says they did their homework first,
'I think people are always looking for ways of new convenience, which an instant boiling water tap does very well, of course. But if you're shopping around and wondering what's right for you, I think it's important to remember that there's instant hot water taps and boiling water taps. There are not many taps that give you a genuine, 100°C boiling water. And having experienced a few makes that hit temperatures somewhere in the high 80s to low 90s, we knew what we wanted to offer our customers.
'You can make a proper cuppa with a QETTLE tap, as it really does dispense at 100C. We also liked the fact that as a 4 in 1 tap, you get filtered drinking water, too. That's sometimes overlooked but is a lovely feature. And it's so much better than buying bottled water or remembering to fill up a filter jug.'
When it came to offering a tap brand that could fully complement Mayfair Worktops' extensive range of beautiful quartz, ceramic and granite, QETTLE also scored highly. The coloured finishes that are available across QETTLE's Signature range have proved to be a huge hit with Mayfair customers seeking to co-ordinate their worktops and taps. Ella says QETTLE's matte black finished taps have been well received by customers creating industrially-influenced kitchen schemes and using surfaces such as grey concrete quartz.
Meanwhile, QETTLE's brass finish has been a huge hit with customers opting for lighter coloured schemes with pops of metallic. Ella comments,
'Our Gold Calacatta and Eternal Calacatta quartzes are a dream when paired with a brass finished QETTLE. It's a really bright, head-turning brass and teamed with those quartzes, makes a real statement.
'For all their popularity, boiling water taps, are of course, still relative newcomers to the kitchen. And so whilst aesthetic appeal is always an important consideration, the Mayfair Worktops Team also wanted to ensure the boiling water tap they displayed was also sound in its functionality and safety. QETTLE, which has two-stage safety reassured them.
'The QETTLE design is very streamlined, and the safety clip makes it very safe to use. That was incredibly important to us, because whilst everyone wants a great looking tap, it's just as important for the practicalities to be properly taken care of. If a customer has a young family, or vulnerable family members, they're going to need to feel the tap is safe and that it can't be misused. With QETTLE, even if the clip is removed, there's a still a precise action to execute to get boiling water. You can't access the boiling water 'accidentally' – and this was a big plus for us.'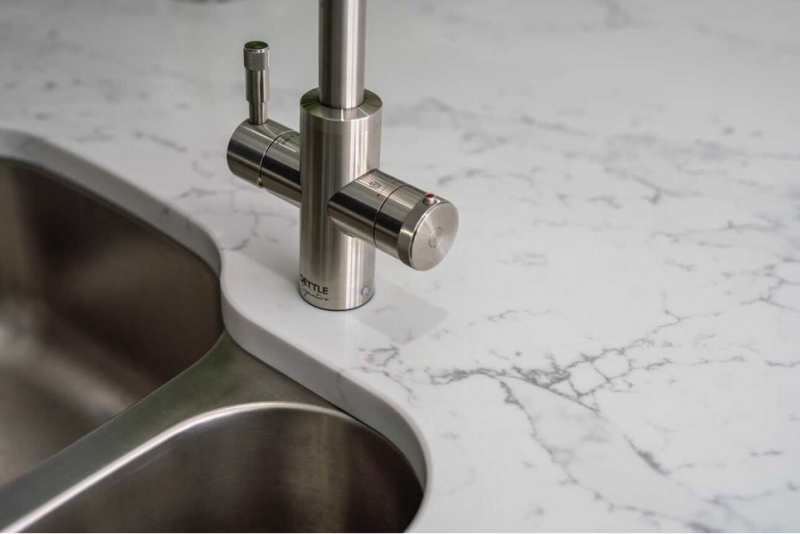 So what surface trends would the Mayfair Team put their money on at present? In material terms, quartz ranks extremely highly, says Ella. But she also acknowledges the timelessness of granite and the newer ceramic, which fuses natural materials together to produce a highly versatile and robust surface material. Palette wise, lighter colours are also having a moment – especially when teamed with darker cabinetry.
Comments Ella,
'Whether it's a flat white – of the surface variety! – or something that suggests more texture, for example, a Calacatta, lighter surfaces rule. We've seen some truly stunning kitchens that have utilised these worktops with cabinetry in midnight blue, charcoal, wine and forest green and they're winners every time. We definitely don't see this trend going away anytime soon – and if there's a QETTLE in the mix, so much the better!'

And finally, after a hard day's worktopping, do the Mayfair Team get to put their feet up with a QETTLE cuppa? Laughs Ella,
'Oh absolutely, we're true converts! Hot drinks are so quick and easy, and a boiling water tap beside you makes so many other things convenient, too. They're great for speeding up pasta and rice or grabbing a speedy snack on the go. But we definitely don't wait until we get home – our QETTLE taps fuel us throughout the day – we really wouldn't be without them!'
You can see the full range of worktops on Mayfair's website.