When Trade Canvas's Ben Fecci got in touch to say he was relocating his large format, fine art and canvas printing business to a former village hall, and that he quite fancied a QETTLE to keep his team in cuppas, we said, 'Sure, we'd love to help…' After all, a QETTLE isn't just for the home. But a village hall? And one that was still to be renovated, at that.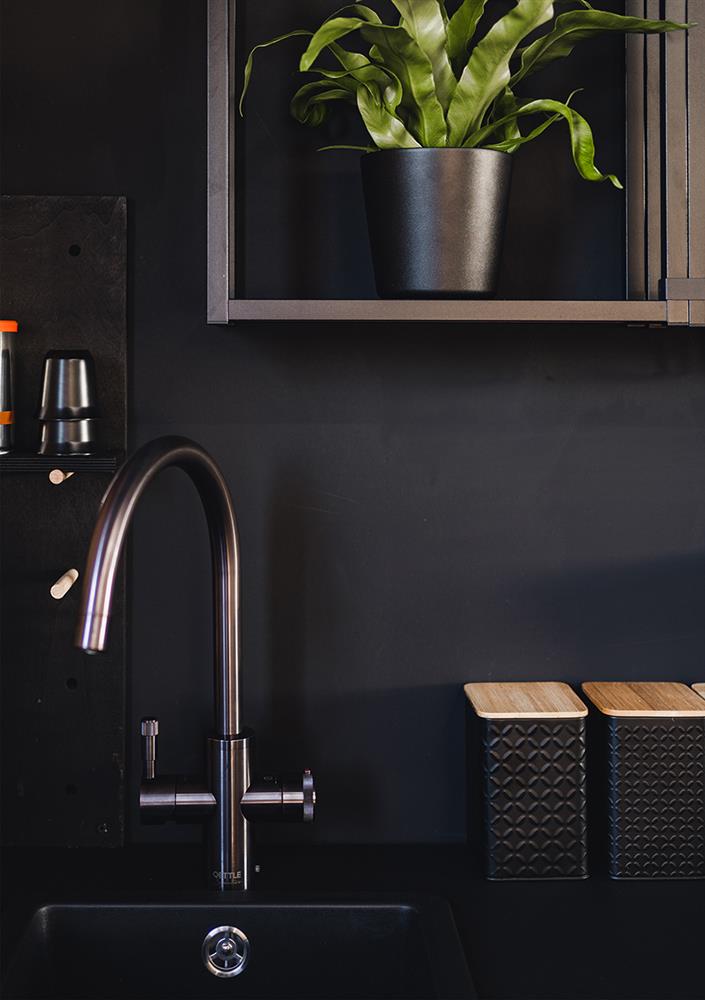 Over the next few months, the Trade Canvas Instagram feed revealed each reno stage. And it quickly became clear that Ben was a renovation force de resistance. Then came the biggest reveal of all – Trade Canvas's head-turning new kitchen, complete with a gunmetal finished QETTLE.
Frankly, it was a moment. QETTLE Workplace handles the installation of a good number of QETTLE boiling water taps into commercial settings, but we had never seen such an inspired workplace setting before.
Ben explains,
"When we purchased the old village hall and planned its conversion to new print studio, we knew that we needed to push boundaries with the design process. It was also essential that we used the space cleverly – zoning staff areas and finding products to help free up space was a fundamental part of the process.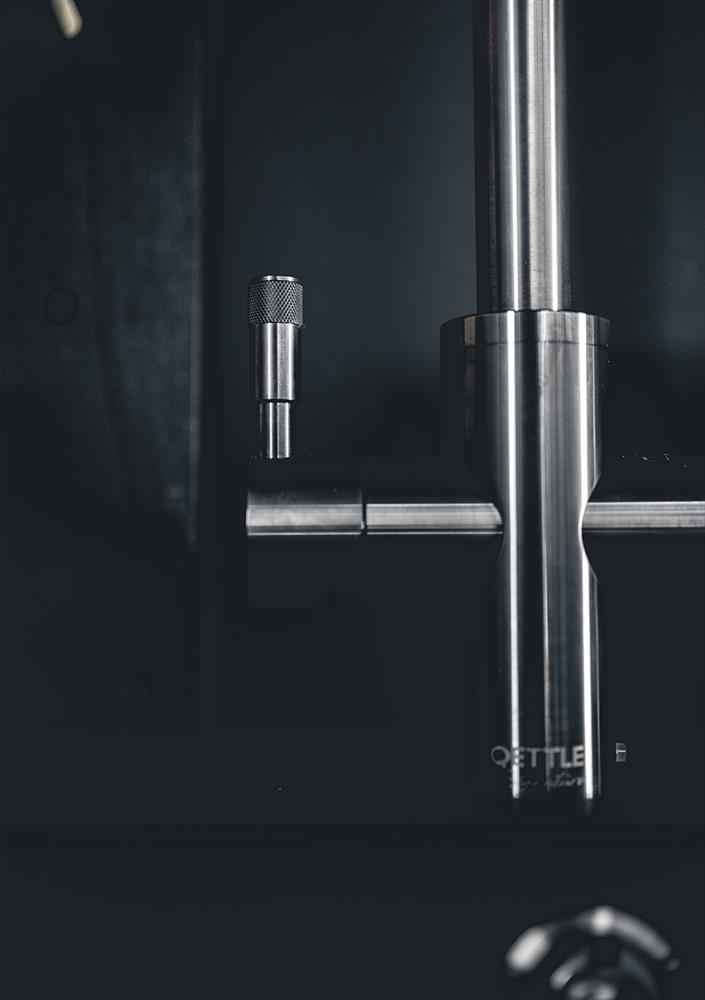 Incredibly, Trade Canvas's kitchen measures just 140cm wide. And whether you're kitchen planning for home or a workspace, it's a great example of what's possible even in the smallest of spaces. Thinking about how to make the available space work as hard as possible, using clever products and injecting some serious style, has resulted in no ordinary workplace kitchen.
Ben says,
"The kitchen area in the studio is compact; it measures just 140cm wide. We wanted to save counter space, so getting the tap was a no brainer for us. Not only does it look super stylish, but we loved the fact that the tap was available in coloured finishes. We chose 'Gunmetal' as it had an industrial, sleek look that matched the design scheme of the studio's interior.
"The QETTLE has some great features for anyone looking for a small space solution. It's also cost and time effective, too. Not having to wait around for the kettle to boil adds up to us winning back time in the studio, whilst the fact that you only use the boiling water you need, helps to reduce water waste."
The Trade Canvas team have also been impressed with their new kitchen and QETTLE.
"It's genuinely 100°C," says Ben. "Plus, the filtered drinking water has been really welcomed by everyone – especially after the long, hot summer. They all used to buy bottled water – but thanks to the QETTLE, that's no longer necessary."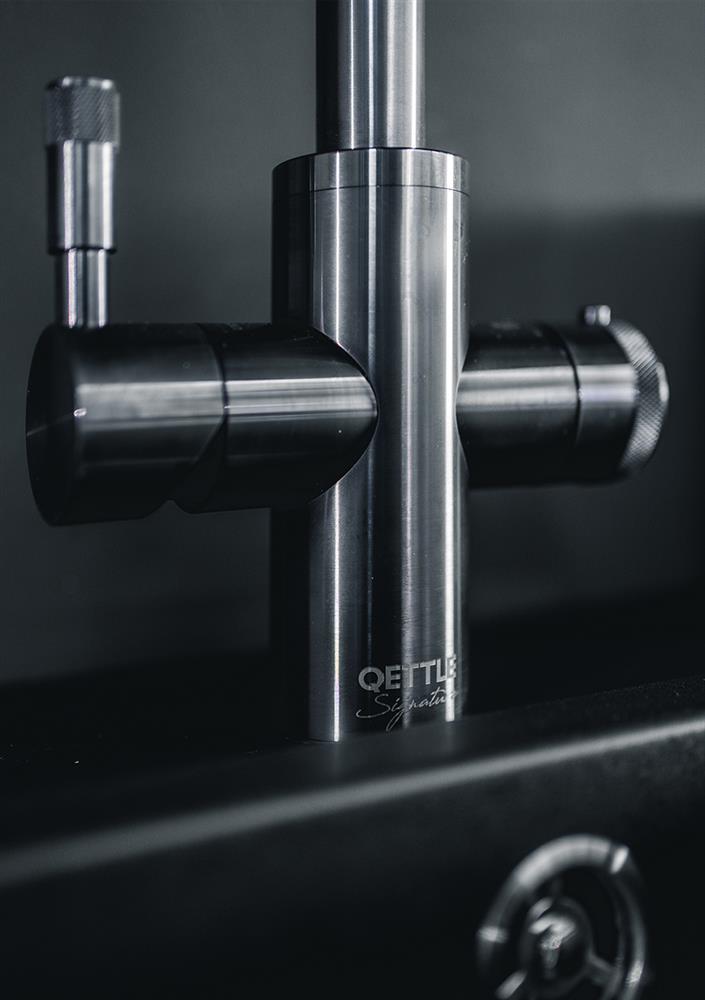 Just over a year has passed since Ben picked up the keys to a disused village hall. Dilapidations aside, the acquisition of the hall was a milestone for Trade Canvas – a business that Tenby born and bred Ben founded over 20 years ago.
"Trade Canvas started life in and around Tenby – on market stalls and at local events. I grew up here, working in my family's fish and chip shop, and have always loved the town.
"I've also always loved design and photography, and although I initially continued with my day job – printing and making the canvasses from a spare bedroom in the evenings – we eventually needed our own premises. An old dairy provided our first home, so really, doing up an unloved village hall wasn't such a stretch."
Trade Canvas has certainly come a long way since those early market-trading days. Ben is now supported by a great team and the company's client list is impressive – they've completed projects for Sega, Virgin, Vodafone, Liberty and many more.
So is it a case of endless cuppas equalling a happy Trade Canvas team?
Laughs Ben,
"It's been a revelation! To say that they love it is a massive understatement, they say the ease and convenience of having instant water on tap is great. They've also been surprised by just how much they've enjoyed using the filtered cold water feature; it's saved them buying bottled water and has contributed to them being able to reduce their daily costs."
He adds,
"Buying the village hall was an opportunity we couldn't turn down, and whilst the renovation process, sourcing materials and staying on budget has been hard, we're in, settled and we love our new studio and print space. The QETTLE was the icing on the cake – or the cuppa – for the kitchen!"